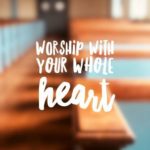 WAY #23 WORSHIP WITH YOUR WHOLE HEART. Your life is meant to be an act of worship. Every breath, action, and thought flows from God and can bring him glory. Praise God everywhere and embrace the opportunities to regularly worship with your church family.
IF I READ THROUGH THE PAGES of Scripture, I am told to love God with my whole heart, serve God with my whole heart and, in this week's way, worship Him with my whole heart. All of these commandments force me to ask, "What does it mean to do anything with my whole heart?"
There are varying beliefs about the heart. If I accept the materialist's belief, the heart is solely matter; it pumps blood to other physical organs. If we apply this belief to our current topic, we could say that we need to love God with our physical being. If my body is in church every Sunday, I am worshiping God with my whole heart. No matter what I am truly focused on, whether it be a promotion at work or the football game I will be watching in an hour, I am fulfilling God's commands by my physical presence.
If we take another view, the heart is where the emotions stem from. It is often put into competition with the brain. Application: being in church matters less than emotional responses to the people around us. Meeting with the people of God isn't as important as making sure that we give the homeless man on the street corner a sandwich.
The problem with both of these views is that they simply aren't radical enough. Christ didn't expect us merely to show up for an hour every Sunday, or merely to give the homeless man a sandwich. Let's look at a biblical understanding of the heart in Proverbs 4:23. I like the NIV here: "Above all else, guard your heart, for everything you do flows from it." In this view, the heart is the center of the emotional life, the intellectual life, the spiritual life and the physical life. In short, the whole person. All of my anger towards my father, all of my self-proclaimed intellectual superiority to the person I am sitting next to in the pew, the entire absence of my devotional life and all of the cancer that is giving me only months to live is what God wants seeking, serving and worshiping Him.
This is what we have to bring to God in order for us to satisfy this week's way. Anything less and we are holding back, only offering part of ourselves to the God who wants us in our entirety. God wants whole people worshiping Him, so that those people can become like Christ from the inside out.
Deacon Paul Gordon
---