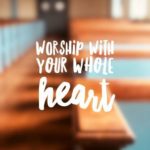 WAY 23. WORSHIP WITH YOUR WHOLE HEART. Your life is meant to be an act of worship. a Every breath, action, and thought flows from God and can bring him glory.b Praise God everywhere and embrace the opportunities to regularly worship with your church family.c (Matthew 6: 33, Romans 12: 1, 2: Psalm 150: 6)
What is the chief end of human life?
To know God by whom men [and women] were created.
What reason have you for saying this?
Because He created us and place us in this world to be glorified by us, and it is indeed right that our life, of which He Himself is the beginning, should be devoted to His glory.
John Calvin, The Catechism of the Geneva Church
You were made to worship God and when you and I worship we are most fully ourselves as God created us.
You were made for God's pleasure. When I understand this, plenty changes in my life. As Rick Warren wrote in The Purpose Driven Life, "Bringing enjoyment to God, living for his pleasure, is the first purpose of your life. When you fully understand this truth, you will never again have a problem with feeling insignificant. [Worship] proves your worth."
But what is worship? It's a good question to raise because not everyone here knows the answer. In an 1828 edition of Webster's dictionary, worship was defined as, "is to honor with extravagant love and extreme submission." That's good! Following this definition, worship shifts our focus from ourselves or others to God alone. Worship puts me in my proper place because God is where He belongs—on the throne.
Here's another way to understand worship. Chris Collins of Verge Network, offers this helpful notion: "Biblical worship is the full-life response-head, heart, and hands- to who God is and what He has done." Chris based this definition upon Jesus description of our life's purpose: "Love the Lord your God with all your heart and with all your soul and with all your mind." (Matthew 22:37)
Our Way of the Week awakens us to promise that God can be and should be worshipped in all times and places. But don't forget that there is a unique opportunity that comes every Sunday morning when we gather twice for worship. Those are the most important hours of our week as a congregation for everything flows from our worship. Worship is that central.
So won't you join me? Praise God from whom all blessings flow! Praise Him all creatures here below! Praise Him above ye heavenly host! Praise Father, Son, and Holy Ghost. Amen!
Stuart Spencer, Pastor
---