Get Real –

Exploring Ecclesiastes
With some of the most dazzling language in the New Testament, the unknown author of Hebrews begins preaching about Jesus using a "sample" from a song sung by early Christians. This song is all about the ways in which God speaks, or raps if you like, to us. Our God has a lot to say about life, faith, purpose, and peace. This summer, our pastoral staff preaches a series of sermons on the book of Ecclesiastes, called, "Get Real!" The unknown author of this neglected book of the Bible is the "most real of the realists of the sacred writers." We won't always want to hear the truth of Ecclesiastes but we'll be driven to acknowledge the truth of these words. The book is "to a call halt to our various and futile attempts to make something of our lives, so that we can give our full attention to God — who God is and what He does to make something of us."
Summer Worship Hours
(May 26th through September 1st)
9:00 am Traditional Worship in the Sanctuary
10:30 am Contemporary Worship in Miller Commons
No Educational Hours through the Summer months!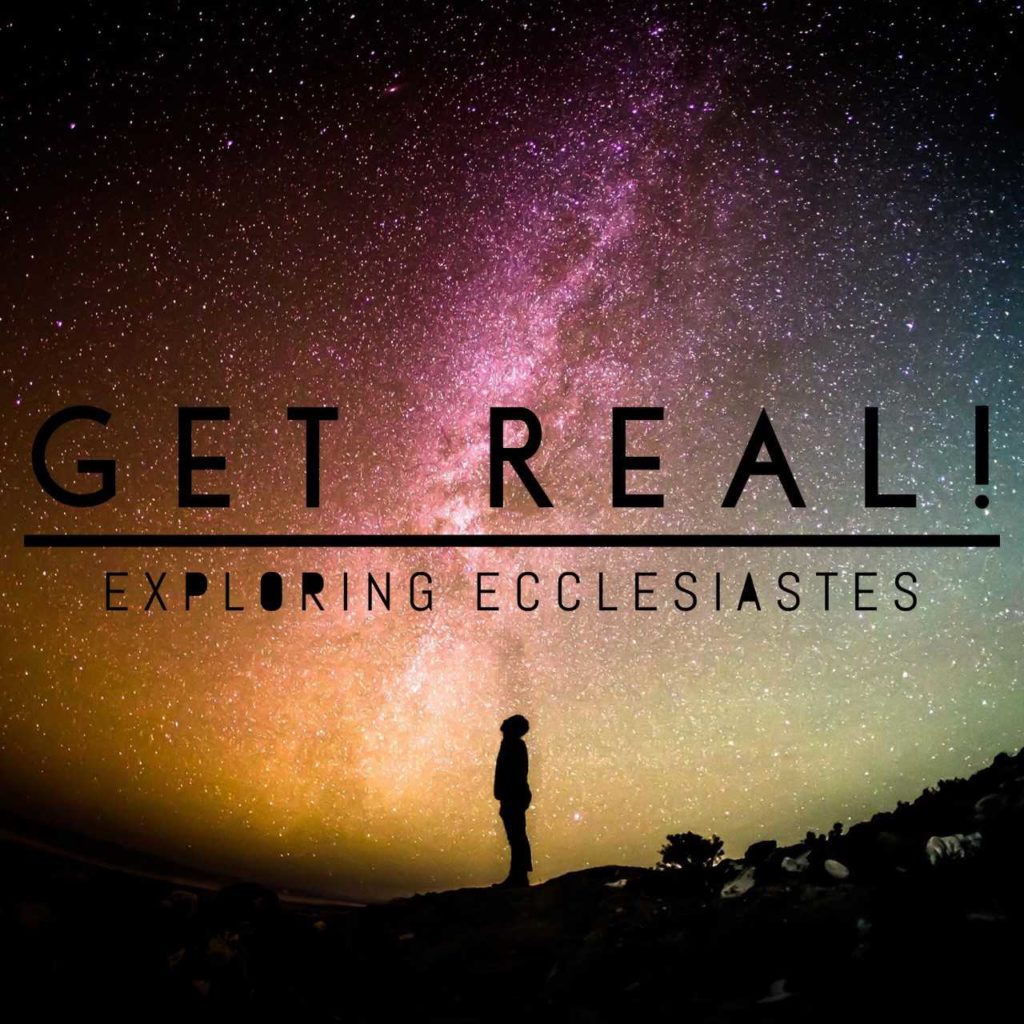 Dirty Harry in the Pulpit
Sunday, June 16, 2019
The unknown author of Ecclesiastes, called the Teacher is not a cynic and he doesn't believe that everything is meaningless. The Teacher paid close attention to the world as it is. His approach is to challenge just about everything you and I hold dear. His aim is to destroy and level every false hope and vain attempt to find meaning anywhere other than with God.
Ecclesiastes 1: 1 – 11

This Road Ends in a Cemetery
Sunday, June 23, 2019
In these verses, the Teacher is in the middle of pointing out seven dead ends, or if you prefer, seven roads that all end up in a cemetery. We will look closely at two of those roads today. All of these roads are filled with pleasure. All promise life and meaning and happiness. All are meaningless. All are smoke. All roads lead to a cemetery.
Ecclesiastes 2: 1 – 15

Know the Seasons
Sunday, June 30, 2019, 9:30 am
5th Sunday – One Combined Service
Kelly LePenske preaching
The Teacher wrote a poem to teach wisdom, skill for living. There are 14 lines with 14 contrasting statements about the seasons of life. This is a poem about time and what actually happens under heaven. The main point for you to take home is that God has established periods, moments or seasons for a wide range of activities and feelings of life.
Ecclesiastes 3: 1 – 14

With
Sunday, July 7, 2019
Dan Wonneberger preaching
s: This world is an unstable place to live and people fall down all the time. It's a pity when you have no one to help you up. This world is a cold place to live. It's a pity when there's no one in your life to bring you warmth. This world is a dangerous place to live. It's a pity when you have no one to cover your back. Though just about everything is meaningless, one thing isn't: another person who stands with you in life. It is the power of two.
Ecclesiastes 4: 4 – 12

Love God and the Rest is Easy
Sunday, July 14, 2019
Augustine once said words to this effect: Love God and do whatever you please: for the soul trained in love to God will do nothing to offend the One who is Beloved. With a special focus on the futility of wealth, the Teacher guides us to the first rule of stewardship: enjoy what God gives you.
Ecclesiastes 5: 10 – 20

Where's the Funeral?
Sunday, July 21, 2019
In these verses we're ask to make a choice. You'll hear the words, "better than" often in these verses. It is better to be patient than proud. Sorrow is better than laughter. The Teacher is after us to gain wisdom. Wisdom is the enduring skill of learning how to live. One of the best ways to get wisdom comes from making the better and sometimes the unusual choice.
Ecclesiastes 7: 1 – 14

Grasping for the Ring
Sunday, July 28, 2019
Kelly LePenske preaching
"Enjoy what you have rather than desiring what you don't have," says the Teacher in 6: 9. Here he highlights the futility of banking on a future we may never see. God keeps in the known of today. James agrees, "How do you know what will happen tomorrow? For your life is like a morning fog—it's here a little while and then it's gone." (James 4: 14)
Ecclesiastes 6: 1 – 12

Not What I Signed Up For
Sunday, August 4, 2019
Dan Wonneberger preaching
The Teacher, the unknown author of this Old Testament book, had a sharp eye to see the world as it is. The Teacher never wears rose-colored glasses darkened by his faith in God. The Teacher holds this deep conviction. Faith in God must be real and truth to be adequate for this world where justice doesn't always win the day, and when the good don't always come out on top.
Ecclesiastes 8: 10 – 17

Grab a Handful of Life
Sunday, August 11, 2019
Death comes to everyone. Our society works overtime to ignore the reality of death but we can't escape it. Wise people often reflect on their mortality. They prepare for it by facing it with faith and regularly surrendering themselves to God. Death is certain but little else is, so grab the life God gives you.
Ecclesiastes 9:1 – 12

Soggy Bread
Sunday, August 18, 2019
Guest Preacher, Rev. Dr. Debby Brincivalli, Executive Presbyter of the West Jersey Presbytery
"God's ways are as hard to discern as the pathways of the wind, and as mysterious as a tine baby being formed in a mother's womb." (11:5) The Teacher observes that we often have no idea what's coming to us in life. Danger is unseen. Accidents happen. Generosity is a way to fight back against the unknown. "Give generously, for your gifts will return to you later" Or, "Throw your bread on the waters, for after many days you will find it again." (11: 1)
Ecclesiastes 10: 8 – 11: 6

A Word to the Young
Sunday, August 25, 2019
Don't put off knowing and loving God. Seek Him now, the earlier the better. God is to be known, loved and enjoyed throughout all of life. "Young person, it's wonderful to be young! Enjoy every minute of it. Do everything you want to do; take it all in. But remember that you must give an account to God for everything you do." Enjoy God and remember God all the days of your life.
Ecclesiastes 11: 7 – 12: 8

The Preacher's Only Sermon
Sunday, September 1, 2019
Communion
Focus: The Teacher or Preacher has raised one important question about life after another. His questions are his answers. "Yet what the Preacher mainly wants us to see is how meaningless life is without God, how little joy there is under the sun if we try to leave our Creator out his universe. By the time we get to the end of Ecclesiastes, we have to admit that he has proved his case. 'Nothing in our search has led us home . . . nothing that we are offered under the sun is ours to keep."
Ecclesiastes 12: 9 – 14