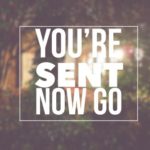 WAY #21 You're Sent, Now Go
SEND and GO is an exchange between two individuals. God sends us, and we respond in love and obedience by going. We often do not understand why we are sent, but His purpose unfolds as we go!
Moses was sent by God to Pharaoh, asking him to let the Israelites go from Egypt. After a series of plagues, Pharaoh told them to go from Egypt. God sent them into the wilderness. As they demonstrated their willingness to go, they were ultimately led to the Promised Land.
Jonah was sent to preach repentance to the city of Ninevah, but he refused to go! After various adventures on the Mediterranean Sea, he obeyed God, and decided to go. An entire city was saved.
In John 10, Jesus tells us that he was sent by the Father, and He willingly agreed to go to earth, and then to the cross, for the salvation of humankind. He later told us, "As the Father has sent me, I send you. Go and make disciples of all nations."
As we are open to the leading of the Spirit, we may be called to go as we visit a neighbor, offer a prayer to those we encounter, make a phone call, deliver a meal, or be a friend to those in need.
We currently find ourselves in a situation where we may not be able to physically go and meet the needs of others. We are blessed to live in a time that has given us many ways to send the Gospel around the world. We can go behind closed doors with TV, radio, and Zoom! We are able to send missionaries and supplies to the uttermost parts of the earth. We are given new opportunities to GO in unique ways, delivering the good news, that Jesus Christ is the Son of the living God. He enables us to support the work of those who are able to go on our behalf.
As we are willing to GO, God will have the last word, and it will be good!
Linda Vandergrift
---