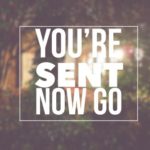 WAY #
20. YOU'RE SENT, NOW GO. We're blessed to be a blessing. God intends to use you to bless, heal, restore, and liberate a dark and hurting world. We're here for others: in our families and our community and In the world. Go to the need. Live missionally. — Scripture: Genesis 12: 2, 3; Matthew 5: 14 – 16; John 20: 21
AS CHRISTIANS LIVING IN suburban New Jersey, this Way of the Week can be confusing. The idea that God intends for us to be His hands to bless, heal, restore, and liberate a dark and hurting world can feel so distant from our day-to-day reality. How can God use me to bless and liberate the world while I live out my daily routine of work, family, and church?
Sometimes it feels easier to send money or things. Our church does amazing ministry through our missions and Deacons contributions, and projects such as Operation Christmas Child, Angel Tree, and Thanksgiving baskets. I know many of our church members sponsor children through Urban Promise in Camden, HOM in Haiti and many other countries. These things are important and they have an impact for Christ. Keep doing them. Do more! However, I'm not sure that's all Jesus meant when he called us to be the "light of the world" (
Matthew 5: 14
).
So what does it look like to go? Sometimes God may be calling us to physically go, joining the church on a mission outreach to Haiti, Mexico City, Honduras, or Denmark. Trips like this had a profound impact on my faith as both a teenager and an adult. If you have never participated in one, I urge you to step out in faith and join. You will return changed. However, more often than not, I believe God sends us into our own daily lives to be His light to the people we encounter.
This week, I challenge you to open your eyes to the people God puts in your path. Volunteer to make a meal or stay overnight with our IHN guests next week. Be the one to notice the coworker who is just not him- or herself. Brighten a stranger's day with a smile or a kind word. When your child, spouse, or roommate comes home upset, give them the gift of your time and your full attention. Offer to pray for them. Better yet, pray with them in that moment. Sometimes, transforming the world starts by seeing the world through God's eyes. Now go!
Elder Jenny (Wittmer) Revucky
---