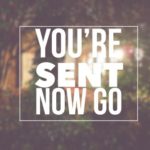 Way #21: You're Sent, Now Go. We're blessed to be a blessing. God intends to use you to bless, heal, restore, and liberate a dark and hurting world. We're here for others: in our families and our community and in the world. Go to the need. Live missionally. – Genesis 12: 2-3; Matthew 5: 14-16; 1 Chronicles 16: 24
THERE ARE TWO NOTIONS of the church, the church gathered and the church sent. Often, most of our church focus is on the church gathered, but there are pockets and refugees in our weeks. The church gathers because it is in these gatherings (church, small groups, dinner with Christian friends, youth groups, kids groups, choirs) that we find ourselves refreshed and recharged to be sent again.
98% of your waking hours are spent outside of church gatherings and that is a good thing. It is in those hours when you are sent out into the world to be God's emissary; his salt and light. In those hours you are able to work alongside God, empowered and led by Him, to share the gospel by your life and to meet the needs of those around you. It is in those hours that you can be a blessing.
What would change if you thought of your life as a life which is sent? How would coaching a kids team, washing dishes, sitting at lunch, practicing for the play, talking with your sibling, or going to work all look different if we thought of our lives as a mission? You don't need to bring someone to church for them to meet Jesus; you are sent into their lives on His behalf to show who He is and care for others in His name. You bring Christ to them.
Today we send our graduates into the next step of their lives not as learners only, but as missionaries sent into the mission field of collegiate life. Each of them will be an ambassador for Christ on their campus bringing Jesus and His blessing through their lives. At times they will fall short and fail, but they will fail forward, growing into who God would have them be. Pray that the Spirit would guide them and remind them of who they are.
Dan Wonneberger
---