The 40 Days of Lent
A season of special opportunities and experiences for 2023
Then, calling the crowd to join his disciples, he said, "If any of you wants to be my follower, you must give up your own way, take up your cross, and follow me. (Mark 8: 34 NLT)
Welcome
We aspire to be beacons of God's love and truth, growing together in faith and relationship with Jesus Christ.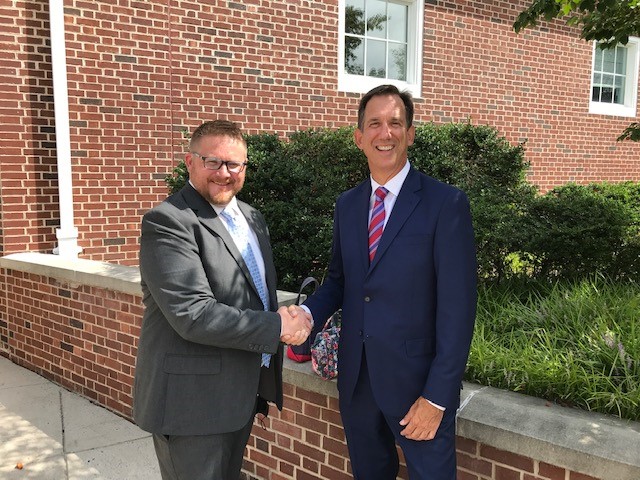 Rev. Wes Allen, Associate Pastor and Rev. Stuart Spencer, Pastor and Head of Staff
The Ways of
FPC Moorestown

Creating a Loving Culture
Since January 2019, we've thoughtfully studied the Ways each week as we strive to live them together.
Live Stream Events…
'Crossing the Road with Jesus'
Listen to our Podcast
Sermons recorded weekly in Miller Commons…
New to FPC Worship?
We would love to hear from you…
Live Stream Check-In
We would like to know you are with us!
NEWS
ONE GREAT HOUR OF SHARING
Palm Sunday marks our offering for One Great Hour of Sharing. This giving opportunity supports efforts to relieve hunger, promote development and assist in areas of disaster.
Gifts may be made online using our One Great Hour of Sharing drop down on our Giving page and special pew envelopes for the offering will be available on Sunday. GIVE TO OGHS
In Sunday School, children were given One Great Hour of Sharing "fish boxes" as a means for charitable monetary collections and giving during the weeks before Easter. The completed boxes will be collected during both Palm Sunday services on April 2nd.
FEATURE
WJCMS presents Haydn's "Theresa" Mass
The West Jersey Chamber Music Society, under the direction of Joel Krott, ends its 2022–23 season with Haydn's "Theresa" Mass" on Sunday, April 2 at 7:30 pm, in the Sanctuary. The in-person concert will feature radiant choral works of the classical era. Haydn's Theresienmesse showcases the composer at his masterful best. Enjoy a quartet of vocal soloists and the combined choirs of First Presbyterian and West Jersey Chamber Music Society, accompanied by a unique orchestration full of depth and color. We round out the program with Te Deum Laudamus by Italian composer and priest Luigi Gatti.
The concert will also be live streamed. WATCH LIVE