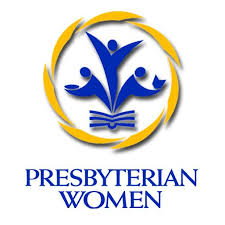 Welcome to Presbyterian Women
The three figures in our logo represent ALL women in the Presbyterian church, young or old, of any national or ethnic background … a community of women in Christ. "Forgiven" is suggested by all three figures rising from the Bible. One is studying. One is caring for others. One is praising God. The three figures suggest the Trinity: The design is a triangle within a circle suggesting Trinity and Unity. The Bible represents the Word who is Jesus Christ, the foundation of our faith and fellowship.
Our Purpose
Forgiven and freed by God in Jesus Christ, and empowered by the Holy Spirit, we commit ourselves
to nurture our faith through prayer and Bible study,

to support the mission of the church worldwide,

to work for justice and peace, and

to build an inclusive, caring community of women that strengthens the Presbyterian Church (USA) and witnesses to the promise of God's kingdom.
Our Officers
Moderator: Carol Morgan
Secretary: Susan Masiko
Treasurer: Elaine Eldred
Chair of PW Missions: Gayle Payne
Chair of Hospitality: Jane Murphy
PW Winter Gathering
January 25, 2021, 7:00 pm via Zoom
All are invited to an evening of fellowship, information, and inspiration.
'The Changing Face of Mission in the World'
Presented by our featured speaker, Linda Jagiela, FPC Administrator of Outreach.
Join Zoom Meeting
Meeting ID: 811 1846 5581
Passcode: 3P7F0M
As we have done in the past, we will be collecting cotton socks
for clients of the Christian Caring Center. A box for socks will be
outside the Commons Lobby throughout January.
PW Fall Gathering
Held on September 21, 2020 via Zoom
The Women of the Church invited members and friends to the Fall Gathering at First Presbyterian Church, hosted by Presbyterian Women via Zoom.
Our featured guest speaker, Pam Main, treated all to an inspirational message, based on this year's PW study: "Into the Light… Finding Hope Through Prayers of Lament".
Laments are prayers that bridge the space between our faith in God and the reality of living in our not-yet-redeemed world. In this study we see that Jesus offered prayers of lament and noted suffering and sorrow in the world. If we are to pattern our lives after His, we need to reclaim lament in our personal and corporate prayer. We need to lament, and Pam encouraged us to "Let it Out".
We invite you to watch Pam Main's presentation.