Attention Bookworms
We have a Mission Book Club that meets monthly via Zoom and you are invited to join us. This has been a great way to come together during the pandemic and spend time sharing our thoughts on the recently read book. The fellowship experienced via Zoom is uplifting!
TIP: Make this a family adventure and include your middle and high school readers.
Send Linda Jagiela, Director of Outreach, an email at missions@fpcmoorestown.org to let her know you are reading the book and want to be part of the discussion group!!
We'll meet via Zoom to discuss these interesting stories. Purchase your books on Amazon.com — each book below links to the Amazon page for you. Stay safe and read.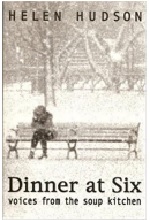 September 28, 6:00 pm
Dinner at Six by Helen Hudson
"This work grew out of my experience as a volunteer in a group of evening soup kitchens known as the Center City Soup Kitchens. The main body of work consists of a series of interviews with some of the guests. My focus is on the individuals – who they are, where they came from, what brought them to the soup kitchen, how they feel about it, how they see themselves, and how they cope with the extreme hardships and humiliations they are forced to endure." parts: "The Volunteers", "The Guests", and "The Kitchen".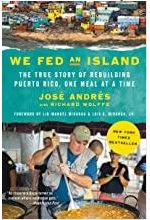 October 19, 6:00 pm
We Fed An Island by Jose Andrus
Chef José Andrés arrived in Puerto Rico four days after Hurricane Maria ripped through the island. The economy was destroyed and for most people there was no clean water, no food, no power, no gas, and no way to communicate with the outside world. Andrés addressed the humanitarian crisis the only way he knew how: by feeding people, one hot meal at a time. From serving sancocho with his friend José Enrique at Enrique's ravaged restaurant in San Juan to eventually cooking 100,000 meals a day at more than a dozen kitchens across the island, Andrés and his team fed hundreds of thousands of people, including with massive paellas made to serve thousands of people alone.. At the same time, they also confronted a crisis with deep roots, as well as the broken and wasteful system that helps keep some of the biggest charities and NGOs in business.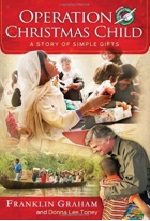 November 16, 6:00 pm
Operation Christmas Child by Franklin Graham
It was a simple idea that became the worldwide ministry of Operation Christmas Child—to minister to children in war-torn and famine-stricken countries. In just two decades it has inspired everyday people to provide more than 100 million gift-filled shoeboxes to needy children in 130 countries. This beautiful book weaves the moving, God-saturated story of the ministry's beginning with the soul-stirring, Christ exalting stories of lives that have been forever changed by a simple shoebox.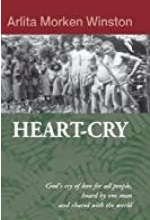 December 14, 6:00 pm
Heart Cry by Arlita Winston
Does God's heart cry out for cannibals? For that matter, does God's heart cry for suicide bombers or terrorists? Is the Christian message of God's love as valid today as it was in the past, or is it old and ineffective news? Arlita Winston lived in the jungles of Sumatra, the child of missionaries David and Helen Morken. Decades later, she looks back and tells how her parents, aunt and uncle braved wild panthers and pythons, head-hunters, hardship and even death to bring God's love to the native people there. Heart-Cry is that story, but it is more than a missionary biography. In the remarkable story of the life of this one family and those they touch is a living picture of the way God pursues all people, of whatever race or creed. He pursues those who love Him and those who do not; He pursues the missionaries and the cannibals alike; and His faithfulness and divine preparation and intervention can be seen in the lives of each. In God's workings in their lives, the author finds timeless truths about God and faith that apply today as much as they did then.